The holidays are full of family and friends getting together to share meals, stories, and just enjoy each others' company.
Following are a few tips on how to optimize your kitchen and make the most of your time:
Use a coffee urn. If you are having a lot of people over who happen to be coffee drinkers you may wind up making several pots of coffee when using a coffee maker. Coffee urns come in many sizes, brew larger quantities of coffee, and keep the coffee warm. Save yourself the extra work of making several pots and invest in a coffee urn to keep your guests satisfied.
If you have a lot of things to bake or roast in your oven, you may want to look into getting an electric roaster to take off some of the stress on your oven. Roasters are a great way to cook your Thanksgiving turkey or create a large pot of chili. These small kitchen appliances are a great investment for any kitchen as they are so versatile in their uses.
Crock pots are another great tool to have handy for holiday gatherings. They make fixing and forgetting (until time to serve that is) recipes easy. Use them to get a head start on your meal and have at least one course ready while you are preparing and cooking the others.
Pressure cookers
cut down on cooking time considerably. They make meats more tender and allow you to quickly cook up a side dish.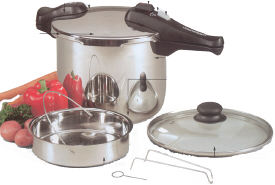 What is your go to kitchen item to help you with your get togethers?