We had a question from one of our customers regarding an old Mirro Pressure Cooker and parts for their model.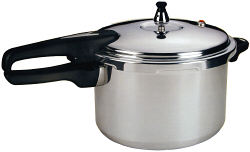 New 6 qt. Mirro Pressure Cooker
I have an older Mirro presser cooker, its a 4 qt. All it has on the bottom of the pot is:

M-0294 4 qt and nothing else. It is a heavier aluminum pot.

It needs a new gasket and a new little valve to release steam, It has the pressure regulator that reads 5# 10# and 15#.

Do you still make gaskets and a valve for this older model?

Please let me know.




In case you are having the same problem in finding parts for a Mirro M-0294, we want to share with you the answer that we gave:






We do still have parts available for your model (M-0294). I have supplied you with a link below to help you find the parts available.



So if you need
Mirro M-0294 Parts
visit the above link.