We received a question from a customer regarding her
All American Canner
: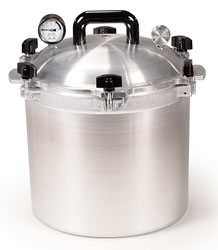 I have an All American Pressure Canner/cooker Model No. 920, but I don't have the instruction booklet. How could I obtain one?
Thank you,
Marilyn T.
We answered Marilyn's question, but just in case you also have the same problem, we would like to help you as well.
With All American the instructions are made differently. One instruction booklet goes with all models. Here are a few different links to help you with your search:
So if you need an
All American Instruction Manual
, just visit any of the links above to find it. It will be called
All American Pressure Canner 74 Instruction/Recipe Book
and should be about halfway down the page of All American Parts.