It's been very cold out this winter, and with all the snow we've been getting here at
Pressure Cooker Outlet
, it is sometimes an added relief to the cabin fever we all occasionally experience if we are able to at least try something new or different in the kitchen. Something to break up the routine, so we've searched and found a couple recipes for you to try out on your pressure cooker. (Don't forget to order
pressure cooker parts
if yours are getting older or worn before cooking with your
pressure cooker
!)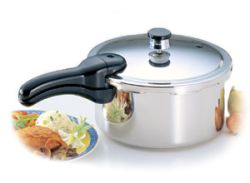 We found a recipe by
Kalyn's Kitchen
for
Pinto Bean and Ground Beef Stew
. A 4-quart pressure cooker seems to be a good size for this recipe. We haven't tried this one yet, but it looks delicious.
Another great recipe is by The Veggie Queen at her blog
PressureCooking.blogspot.com
she features a recipe called
Black Eyed Pea Soup with Brown Rice, Corn and Peppers
. She used this recipe to bring in the New Year, but it looks like one that would be a hit on any chilly afternoon.
If you try these recipes let us know how it went! We love hearing about your
pressure cooking
experiences. What you liked about it, or what could have made it better.